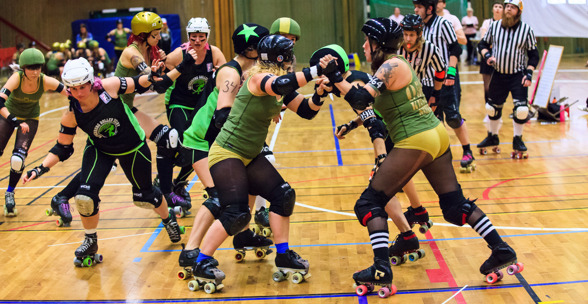 November 28th, 2015
GBGRD The A-Team - Luleå Roller Roller Derby
288- 87

November 29th, 2015
GBGRD The A-team - Royal Swedish Roller Derby
255-83

Last weekend of november Gothenburg Roller Derby hosted the second game weekend of the premier league of Swedish roller derby. The A-Team took on both Luleå Roller Derby and The Royal Swedish Roller Derby and won both games, which meant a second place in the Swedish ranking and a 44th place in the European ranking.

On Saturday The A-Team played Luleå Roller Derby's Slaughter Daughthers. The teams played each other for the first time in Luleå in February of 2013, where Luleå won with a 27 point differential. Since then, the teams have played each other four times. The teams are very familiar with each other's strengths and weaknesses, something that was shown on the track. This weekend, both teams showed that they were in control of their own game, with clean hits, good positional blocking and great walls. If you did not look at the score board, you would say the game was even. However, The A-Team kept and increased their lead throughout the game, that ended with a 201 point win for the home team.

On the next day The A-team played Royal Swedish Roller Derby. If the opponents on the Saturday were familiar that was not the case on the Sunday. The teams had not played each other for over two years, and both played hard to come out victorious. The A-teams blockers had a hard time containing the Royals jammers, who were both agile and strong, working their toe stops on the edge of the line. But The A-Team managed to take the lead in the first half, due to good offense strategies. The A-team's jammers faced hard walls and blockers heavy hitting blockers, but they managed to pull through and earn Gothenburg the second victory for the weekend. Final score ended at 255-83 in favor of The A-Team.

We congratulate the team on reaching their goals for this first half of the season, winning six of seven games. With lots of dedication and hard work they have climbed the European ranking from 81st place in the beginning of the season to a 44th place. They now take a short break over Christmas, but will be back with full strength in January.

Don't miss The Badass Beaver's last game of the season on the 19th of December, when they take on Dock City Rollers Plan B for the second time this year. In January Plan B came out victorious after a close game. Come cheer on the Beavers' as they retaliate.
Read entire post »