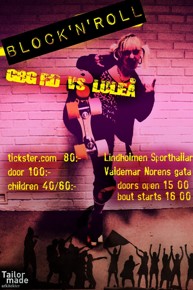 GBGRD invites you to our first homegame this spring.
We will meet Luleå Slaughters Daughters in a Rock 'N' Roll fight!

Where: Lundystrands Idrottshall, Valdemar Noréns gata

Bus stop: Regnbågsgatan (bus 16, 99, 31) alt. Lindholmspiren

Date: Saturday 10th of May

Time:
15:00 – Doors open
16:00 – Bout starts

Tickets:
By tickets at tickster.com
Adults, 80kr
Children 7-12y, 40kr

You can also buy tickets at the door (Please bring CASH!)
Adults, 100kr
Children 7-12y, 60kr

If you can't make it to the game, check out the live streaming at:
www.justin.tv/gbgrollerderby
Welcome!