One step closer to the Swedish championship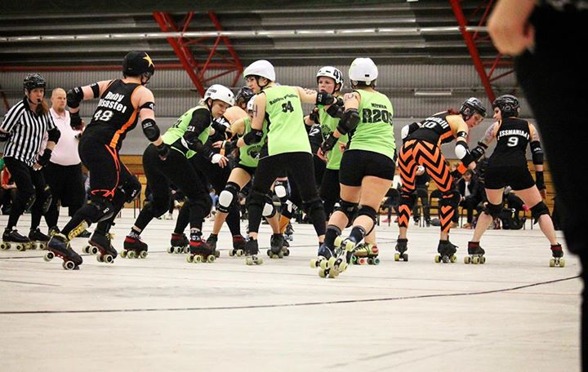 May 9th 2015
LRD Slaughter Daughters – GBGRD The A-Team
98–187

The A-Team travelled to the northern parts of Sweden to play Luleå Roller Derby's Slaughter Daughters for the second to last game in the Swedish roller derby league for both teams. The A-Team won over Slaughter Daughters and are now one step closer to competing in the Swedish championship in July. The A-Team also climbed on the European Flat Track Stats and are now ranked 86 in Europe.

The A-Team took the lead first jam and started out with a steady growing score difference. Halfway through the first period the scoreboard read 2-49 in favour of The A-Team. Slaughter Daughters picked up the pace and started to catch up leaving the scores 49-74 at halftime. The A-Team kept the lead from start through out the second period as well ending the game with a final score of 98-187.

It was a tough game with strong walls and hard hitting as well as strong and sneaky jamming. We thank Luleå Roller Derby for a great game and an amazing weekend up north. Read more about the game in a local newspapers sport section here.

For their next game The A-Team travel to Västerås to play Västerås Roller Derby for their last game leading up to the Swedish championship. Join us in Västerås the 23rd May and cheer for The A-Team.