The A-team qualified to Swedish Championships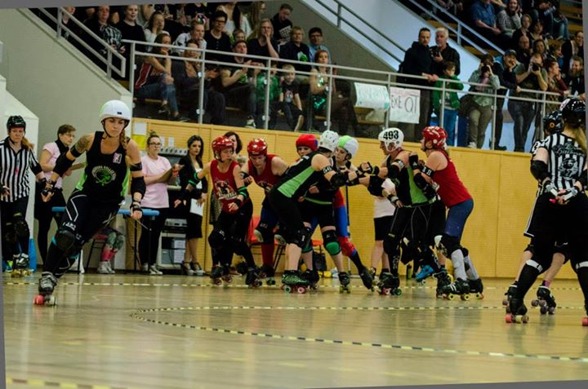 May 23rd 2015
Västerås Rollerderby – GBGRD The A-Team
133-175

Gothenburg Roller Derby, The A-Team, traveled to Västerås for the last game of this years swedish roller derby league, going up against Västerås Rollerderby. The A-Team walked away with the win and are now ready to compete in the Swedish Championships this summer in Sundsvall. The A-Team also climbed one step on the European Flat Track Stats and are now ranked 85 in Europe.

The A-Team took the lead in the first jam against Västerås Rollerderby and played a steady game. With a lead around 20-30 points The A-Team went into the second period with an upper hand. For the second period The A-Team kept up the score difference and Västerås Rollerderby was not able to catch up. The A-Team kept the lead through out the game ending with a score of 133-175.

It was a very exciting game with lots of good offence play. We are very proud of our win and we thank Västerås Rollerderby for a great game. This win qualifies Gothenburg Roller Derby The A-Team for the Swedish Championships which takes place the on 4th and 5th of July in Sundsvall. We'll see you there!

Get all the updates about the Swedish Championships here.