The A-Team keeps climbing the European ranking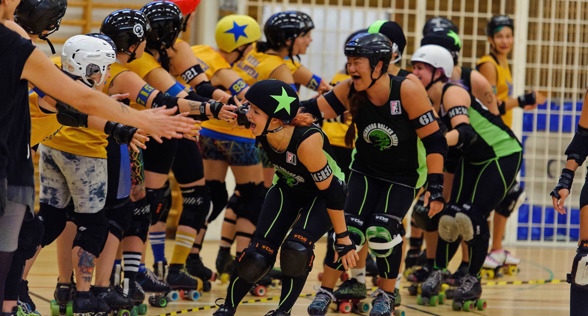 September 26th, 2015
Dock City Rollers A – GBGRD The A-Team
202-101

September 27th, 2015
GBGRD The A-Team – Stockholm BSTRDs
239-137

During the last weekend of September, the first games of the Elitserien (Premiere League) was played in Malmö, Sweden, where Crime City Rollers, Stockholm Roller Derby, Dock City Rollers and Gothenburg Roller Derby participated.

Saturday saw GBGRD The A-Team play Dock City Rollers A, who got a power jam in the second jam and quickly took a big lead. The A-Team was unable to catch up and Dock City Rollers A increased their lead steadily. At halftime, DCR A had 110 points, while GBGRD The A-Team counted 42 points.

For the second period, The A-Team came back on track with a higher energy level and stepped up their game, which still ended to DCR A:s advantage 202-101.

On Sunday, The A-Team played Stockholm BSTRDs, a team GBGRD have not played since November 2012. Back then, GBGRD won in the last jam by five points, but this time GBGRD took command from the start and kept their lead throughout the entire game.

For this game the A-Team brought a higher level of energy and play from the start than on the Saturday, and it payed off. The game ended 239-137 to GBGRD:s advantage.

The A-Team climbed four spots, from 80th to 76th on the European Flat Track Stats ranking during the weekend and the team members are reportedly very happy with their performance. Their next game will be in Barcelona on the 17th of October. That game will also be GBGRD:s first ever sanctioned WFTDA game.

This coming weekend the Badass Beavers are going to Ludwigsburg in Germany to play Barock City Roller Derby for their first-ever away game.

We wish both GBGRD teams good luck on their upcoming games.

If you want to see results from all of GBGRD:s games throughout the history of the league, please click here.