The A-Team wins over Zürich City RollerGirlz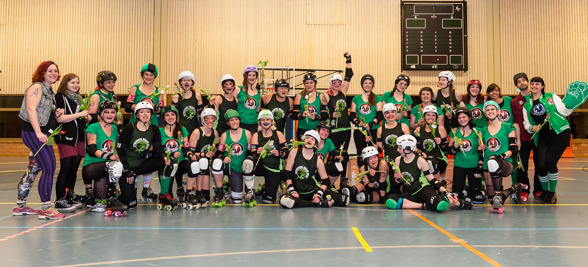 Photo: Daniel Good

March 7th 2015
GBGRD The A-Team - Zürich City RollerGirlz
132-85

This past weekend Gothenburg Roller Derby The A-Team went to Zürich to play Zürich City RollerGirlz. When they left Switzerland on the Sunday they had not only won the game, but also climbed 13 steps on the European Flat Track Stats ranking, where they now are ranked 109 in Europe.

The A-Team had a great start to the game. After the first jams the Swiss team was 40 points behind. Five minutes in to the game Zürich City RollerGirlz recovered and started scoring, but were not able to catch up with The A-team which consistently lead by 30-50 points.

It was a tough game with lots of good and hard blocking, which you can see on the relatively low scores. We thank Zürich City RollerGirlz for a great game, and are very proud of our win.

On the 14th of March we play this season's last home game in Angered Arena. The A-Team are eager to take revenge on Aarhus Derby Danes, who beat them by 73 points in June of 2013. Badass Beavers are playing Aalborg Combat Bullies for the first time. Both teams need your support! Don't miss it for the world.

More information here!